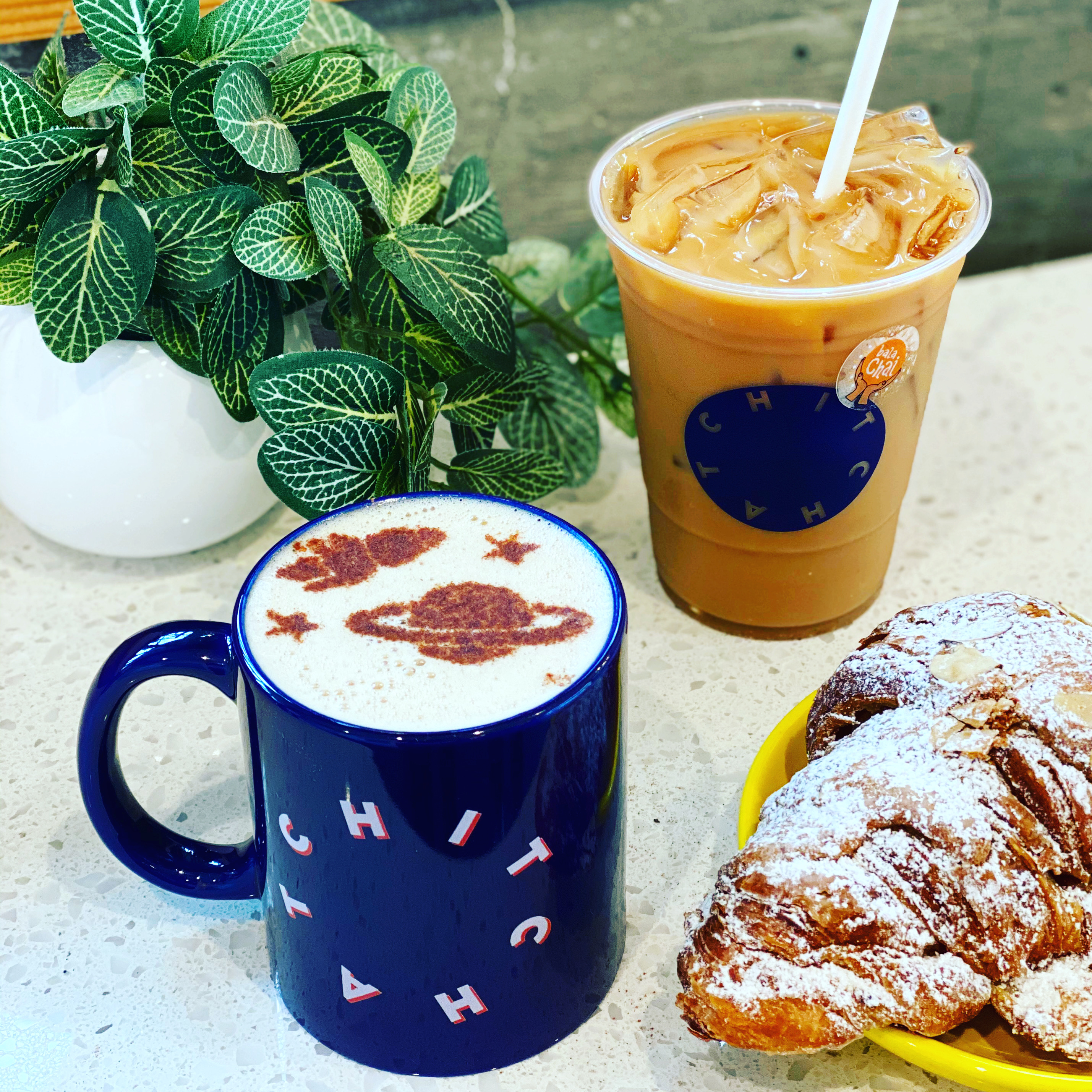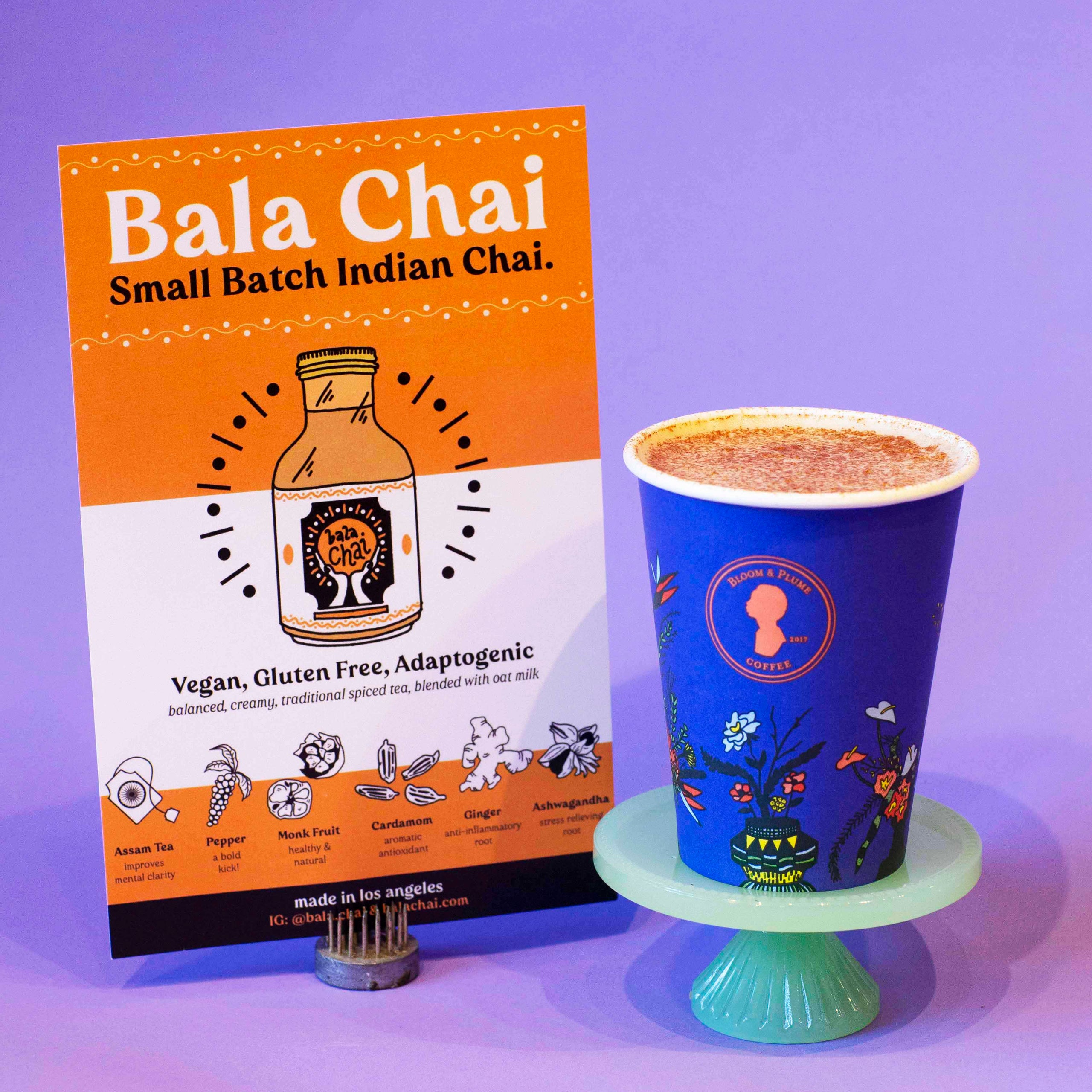 About



Bala बल (buh-la)
means "strength" in Sanskrit.
Bala chai is our modern take on the rich and complex flavors of authentic chai. We infused invigorating spices from India into a creamy oat milk base to create a delicious, power packed beverage.

We hope every sip gives you the mind-body strength you need to take on your day - and life!
—


ASSAM TEA
Improves Mental Clarity
PEPPER
A Bold Kick!
MONK FRUIT
Healthy & Natural Sweetener
CARDAMOM
Aromatic Antioxidant
GINGER
Anti-Inflammatory Root
ASHWAGANDHA
Stress Relieving Root
Made With:

Assam Tea
Oat Milk (Oats, Water)
Ashwagandha
Cardamom
Black Pepper
Ginger Powder
Cinnamon
Cloves
Monkfruit Sweetener
Cane Sugar
10 fluid oz. Contains Caffeine
Nutritional Info:
Chai is India's national drink. From roadside stalls to lavish palaces, rural shacks to urban penthouses, the humble chai rules as the go to drink of choice.

Chai culture is intrinsic to India, where the morning and afternoon cups of chai involved happy socialization and strong family ties.
Masala Chai's origins are steeped in misty antiquity dating back to thousands of years ago.
Masala could mean any combination of herbs and spice blends based on the regional preference and palate typically brewed in hot water over a stove.

Clove, cinnamon, ginger and cardamom form a holy quadrant that lends chai its essential flavor and provides a host of Ayurvedic medicinal benefits that give the tea drinker a daily boost of immunity.

Where to Buy

You can purchase Bala Chai at the following locations:
Bloom & Plume

(Echo Park)
*on specialty menu only*
ORDER ONLINE HERE
Chit Chat LA

(Sawtelle)
*on specialty menu only*
ORDER ONLINE HERE
Lento Market

(Echo Park)
The Dairy LA

(La Cañada)
Additional locations TBA
Stockists
*
We have chai concentrate available for cafes.
*
Interested?
get in touch with us here.
Our Story
Bharat Vishnubhotla

Founder & Brother
When our parents immigrated to Los Angeles from India in the early 90s, their way of fostering a community in a foreign land was to invite people over for lunches, dinners, and chai. Getting together over chai really meant a noisy social gathering over tea and elaborate snacks and dessert. Our mom would hand grind fresh spices and the intoxicating aroma of boiling masala chai would waft from the kitchen all over the house, luring us to abandon whatever we were doing to grab a steaming hot cup.
We love this delicious beverage and felt inspired by chai's ability to bring family, friends, and strangers together.
Chai has a multitude of regional variations, and we were raised on a version with a light, energizing kick. It's been difficult to find a chai comparable at cafes & markets, so we felt a desire to fill the "authentic chai" void on beverage shelves in LA. Our chai is bottled with the essence of the healing, herbal chai we grew up with - but with a refreshing & modern twist.
We're so excited to introduce you to Bala Chai - our personal recipe blending the rich family lineage and tradition we come from, with our quintessential identities as proud Angelenos.
Radha Vishnubhotla

Creative Director & Sister